The Seascape
Newsletter of the CLCA
Central Coast Chapter
January 2019
January 17, Thursday
Chapter New Year Kick-Off Meeting & Mixer 5:30-8:00 p.m., Join us for a toast to the new year at Pour Taproom, 110 Cooper St., Santa Cruz, CA 95060. No Host Bar! We'll start with our first board meeting of the year at 5:30-6:00 p.m. and from 6:00-8:30 p.m. we'll enjoy our mixer. Look for upcoming chapter e-blast to register or contact Justin White: justin@kndlandscaping.com
January 16-March 30, ongoing
Green Gardener Certification Program is a ten-week hands-on training program for landscape professionals that emphasizes ecological landscape design and resource-efficient landscape maintenance practices. For more information read article below.
February 5, Tuesday
Leadership Conference 8:00 a.m.-4:00 p.m. Ontario Convention Center, Ontario, CA. More information go to CLCA website. Look for upcoming chapter e-blast to register or contact Justin White: justin@kndlandscaping.com
February 6-7, Wednesday-Thursday
40th Anniversary Landscape Industry Show, "Energetic!" "An education-palooza!" "A day well spent!" That's how attendees described the 2018 show. Ontario Convention Center, Ontario, CA. More information go to CLCA website or call Micheyl Barnett at 916-830-2780.
February 14, Thursday
NorCal Landscape & Nursery Show and Meeting, We'll have a board meeting, 11:30 a.m.-1:30 p.m. at the trade show venue. Educational seminars and the show run from 8:00 a.m.-4:00 p.m., San Mateo Event Center, 1346 Saratoga Dr., San Mateo 94403. More information at norcaltradeshow.org. or call 530-458-3190. To RSVP for the meeting please contact Justin White: justin@kndlandscaping.com
President's Message
by Justin White, Chapter President, K&D Landscaping Company
new central coast leadership
Dear CLCA Stakeholders,
I am honored and humbled to be your 2019 President Elect. I want to start by thanking those who have come before me—devoting late nights, early mornings, and even weekends to this association. It takes a village to make this chapter happen. I also want to acknowledge our 2018 board and specifically, Reagan Barry, for providing me with the support to throw my hat into the ring for the presidency. I have sat on several non-profit boards but the CLCA is by far the most fun-loving and creative group of people I have been involved with. I encourage everyone to attend a board meeting as it's not what you might expect—there's a true feeling of camaraderie even between competitors. This association is shaping the local landscape industry into nothing short of inspirational, and I am privileged to be a part of it.
The CLCA's mission is to serve and protect the interests of its members, promote professionalism and advance public awareness of the landscape industry. Someone once told me you don't get anything out of an organization that you don't first put in. I think that holds true for us in the CLCA, by working together we can all help to improve public awareness of our association, while also raising the bar for our industry. My vision for the CLCA at our local level is for the chapter to be a stakeholder in the community, helping to bring people together. Imagine the CLCA hosting a community event such as a beach clean-up or a job fair. The amount of public attention an event like that could bring is exciting! Let's help connect vendors, designers and architects to local contractors, and then those contractors to prospective clients. By increasing the public's awareness of the CLCA in our community, we will give our members a strategic advantage over non-members and especially unlicensed landscapers. My goal is to have clients utilize the CLCA as the go-to place for finding and hiring reputable landscape contractors—therefore providing unparalleled value to all of you as members. As for our associate and affiliate members, I think it goes without saying the more clientele we can provide for our contractors, the more products and services they are going to buy from you—it is truly a harmonious relationship.
I am excited for what the next year will bring the CLCA! While change can be uncomfortable, and at times overwhelming, with it brings new opportunities and a new way of thinking. As I represent a younger generation, I also bring a fresh pair of eyes and ideas. I look forward to getting to know each of you more and giving you my absolute best during my term as your president. It is with great joy and pleasure that I accept your trust in leading our chapter into the future!
To our success,
Justin White
CEO, K&D Landscaping Inc.
justin@kndkandscaping.com
DECEMBER 6, 2018 – Holiday Party at Equinox
—By chris elliot
It was a very festive group who gathered recently for the Central Coast CLCA Holiday Party at the Equinox Wine Tasting Room, Westside, Santa Cruz. Everyone was in a holiday mood, with wide smiles on their faces, especially after a glass of the sparkling Equinox bubbly! Valerie and Chris have enjoyed many holiday gatherings through the years, but this may have been the crowning jewel. Katia Velasquez put together another winning event and most everyone was on hand to enjoy. 50+ guests arrived, all laughing and talking about their activities throughout the year and upcoming family holiday events planned for the season. Katia arranged for a fine feast, with Ponche Navideño (spiced punch), nuts, spinach and hummus dips, were followed by a buffet dinner with Danish Winter Soup and Winter Squash Salad, Moussaka (lamb and also vegan) by Velvet Yeti. Delicious by all reports.
A big thank you to Coastal Evergreen Company for supplying the champagne, Site One Landscape Supply for the wine and Netafim for the tables and chairs. You really helped make this event the success it was.
Our outgoing chapter president Regan Berry gave a heartfelt holiday speech and introduced our new incoming chapter president Justin White, who promises to keep the Big Green Ball Rolling along just fine. Stay tuned for more fun-filled events in 2019.
After, dessert was served, time for the White Elephant Gift Exchange, but with a twist. In an effort to save time, each attendee picked a numbered ping pong ball, then opened one gift from the many colorful items stacked high upon the table. Too many gifts to see them all, but I know that snowballs were flying around the room, and the ceramic dog finally found a home and someone to love him. Happy Holidays to All!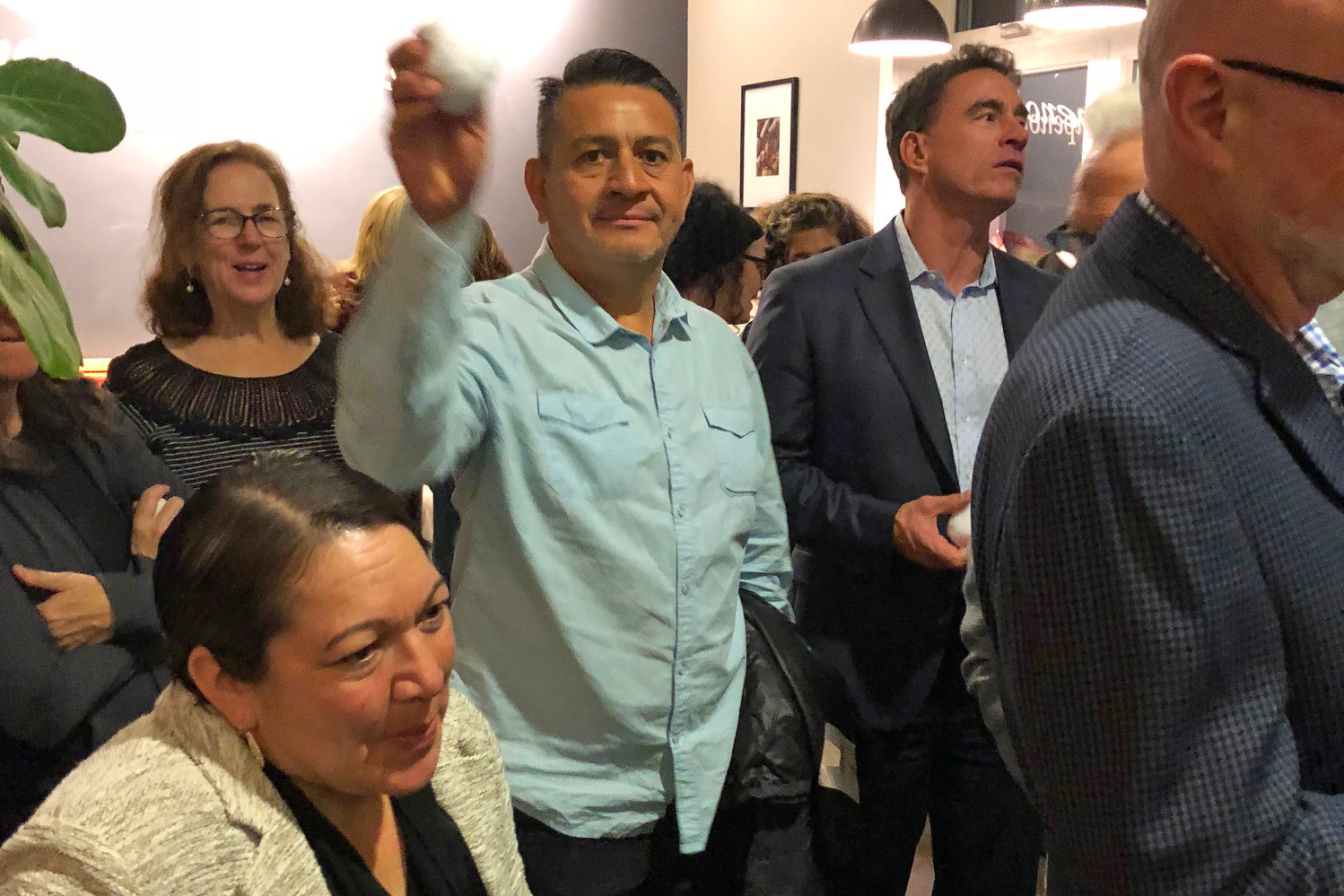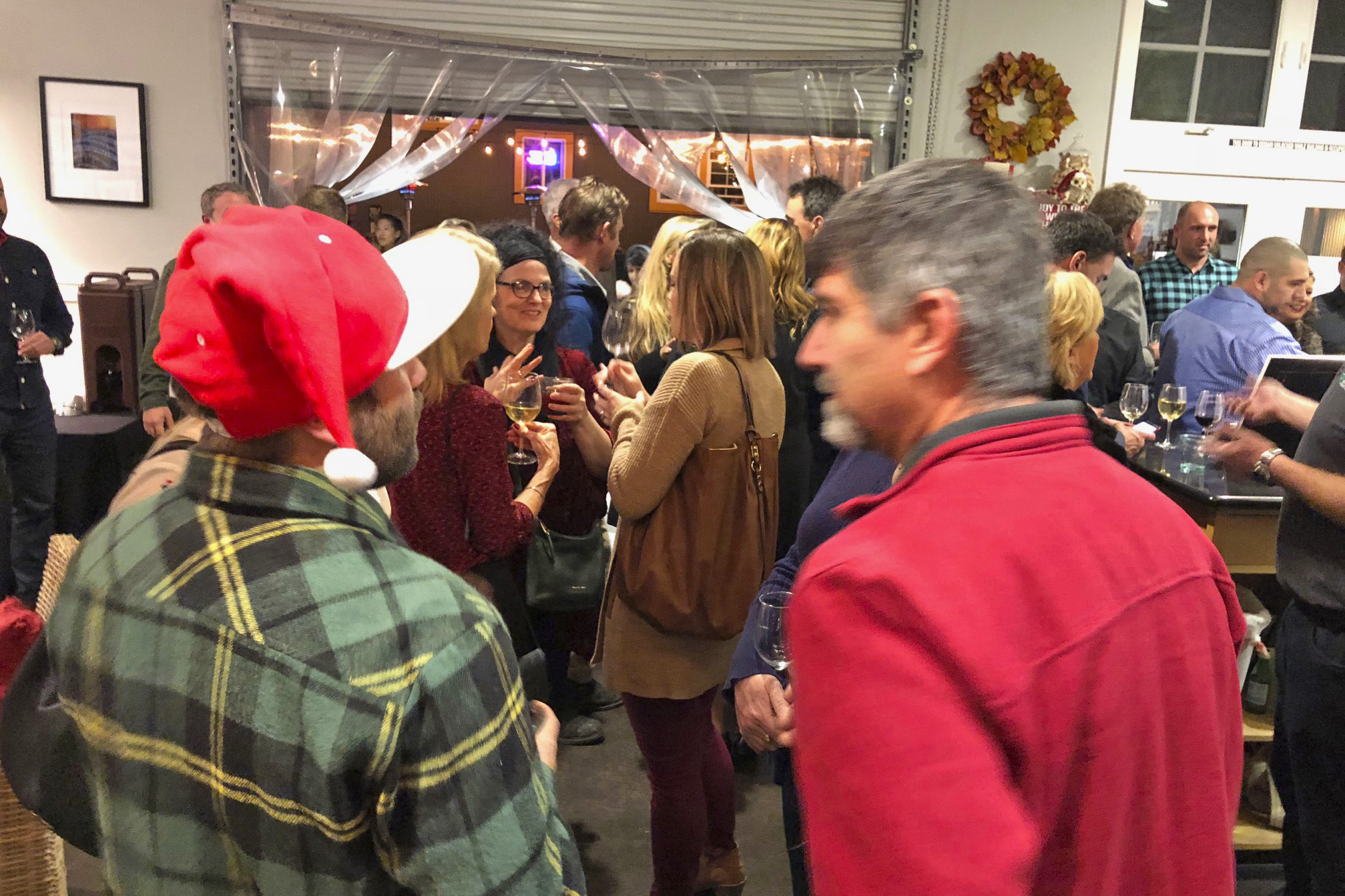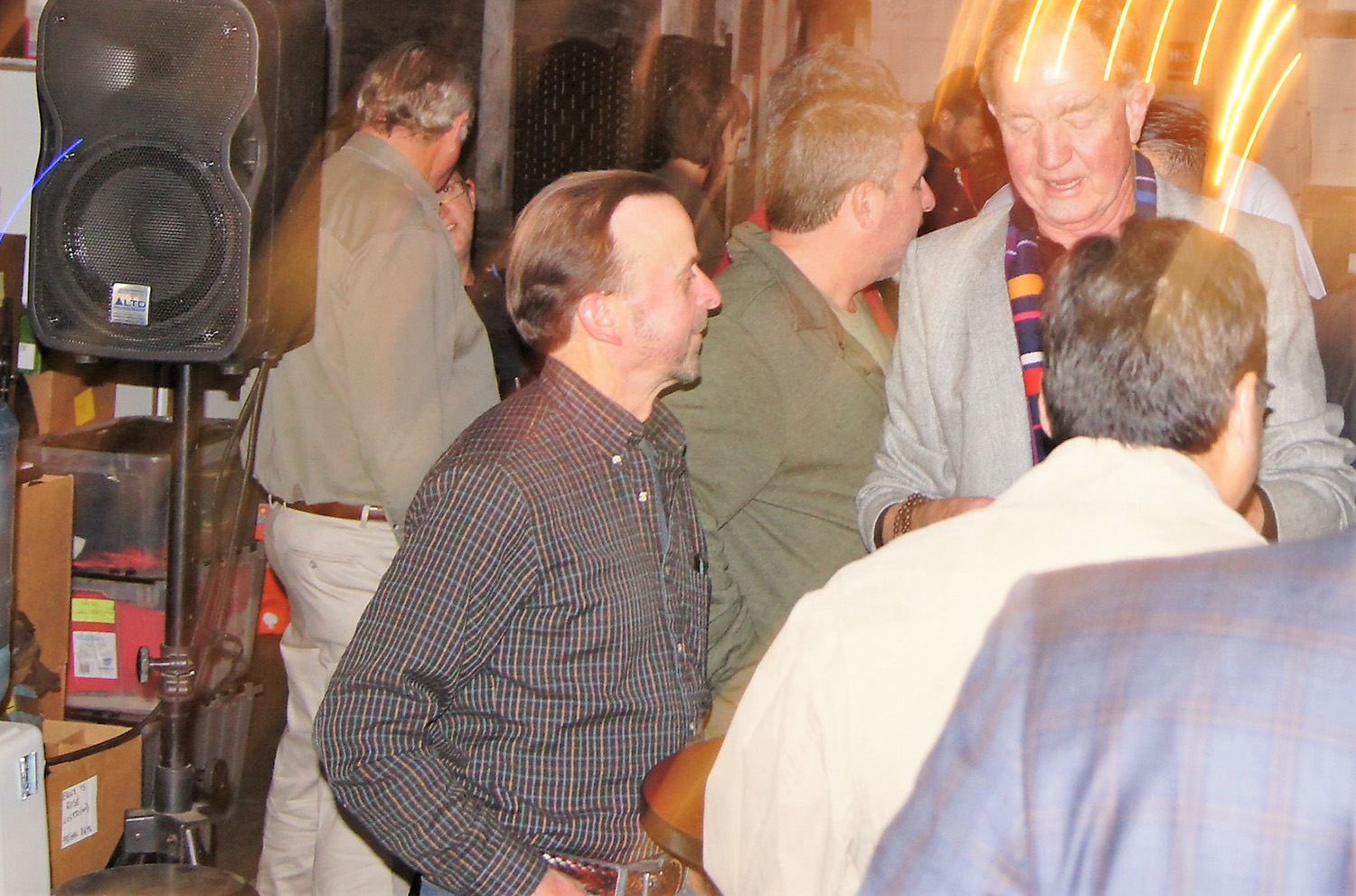 "Our 2018 Holiday party was a blast! Thank you to everyone who came out and enjoyed the festivities. If you missed the event don't fret, we have a New Year Kick-off Mixer coming up in January 17th. Big shout out to our events director Katia Velasquez from Netafim for pulling it all together and a huge thank you to all that helped."–Justin White, 2019 Central Coast president
Board Meeting Minutes
Central Coast Chapter CLCA November Board Meeting
By Phil Dundas, Secretary
November 15, 2018, present: Regan Barry, Craig Stenehjem, Katia Velasquez, Andrew Tuckman, Justin White, John David, Elise Huffman, Ki Bowman, Tish O'Reilly, Phil Dundas
Call to order by Regan Barry 12:19 p.m.
Meeting
It was moved and seconded that the October 4th minutes be approved. All voted in favor.

It was moved and seconded that the Education Dinner Meeting subjects for 2019 and the Chapter Community Project for 2019 will go forward. All voted in favor.

It was moved and seconded that the Partners Program rate will be increased for 2019. All voted in favor.

A 10% increase in advertising cost for 2019 was discussed and approved.

Chapter budget for 2019 was moved to the next meeting.

Holiday Party update. Katia reported on tables, food and beverages for the event.

Web and Newsletter Update—Project is under $2,500 budget to date. It was discussed and agreed that $150/m will be allocated to ongoing website maintenance. $200-$500 for setup and formatting of newsletter in new site. $500-$600/m for ongoing including e-blasts.

An announcement for voting was discussed.

The Chapter Mission Statement discussion was tabled for a future meeting.
Adjournment
The meeting was adjourned at 1:40 p.m.
Bilingual Green Gardener Certification Training is Back, Mid-January 2019!
—by Sherry bryan
The Green Gardener Certification Program is a ten-week hands-on training program for landscape professionals that emphasizes ecological landscape design and resource-efficient landscape maintenance practices. Each two-hour class in the series offers both classroom instruction and hands-on skill-building opportunities in English and Spanish. Core topics include irrigation system troubleshooting, efficient irrigation technologies, weather-based irrigation scheduling, strategies for turf removal, installation and maintenance of drought tolerant and California native plants, natural pruning techniques, evaluating compost quality, mulch application, fertilizer selection and application, integrated pest/weed management, and Monterey Bay-Friendly Landscape standards. Advanced topics in irrigation system design, greywater irrigation and rainwater harvesting follow the basic certification-level course. CLCA member landscape contractors and green industry experts instruct all Green Gardener classes with Spanish interpretation provided by Watsonville Adult Education.
Certified Green Gardeners and their employers are promoted by local water agency sponsors and are listed on www.green-gardener.org.
Where: Watsonville Adult Education, 294 Green Valley Rd., Watsonville
When: Wednesdays, 6:00-8:00pm, January 16-March 20; three Saturday classes
Cost: $100 per person. Scholarships are available for income-qualified individuals.
Registration:
By phone: (831) 786 2160
on-line: www.waae.pvusd.net
or in person: 294 Green Valley Road, Watsonville
New this year: Vocational English as a Second Language (ESL) is being offered in conjunction with Green Gardener Training on Monday evenings. ESL will teach the English vocabulary skills necessary for Green Gardener students to communicate class subject material to clients and employers. Call (831) 786-2160 for details.
For more information: www.green-gardener.org. The Monterey Bay Green Gardener Certification Program is sponsored bi-annually by Santa Cruz County water utilities.
The next certification-level course won't be offered until 2021, so sign up yourself and/or your employees today!